We are a Christian 501(c)3 non-profit ministry focused on helping people build or rebuild strong relationships with God and each other.
Our Vision is to be active agents of God's grace in relationships


Our Mission is to equip and empower individuals, couples, and families to have thriving relationships with God and others
Click here to read about "What We Believe…"


Click here to read about "What We Value..."
Our Ministry Offices in Conroe: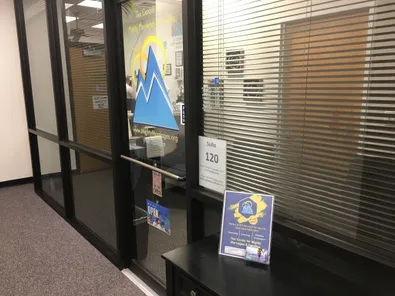 ---
Our Ministry Team:

Dr. John and Terri VanderKaay, Ministry Founders
Dr. John is a Texas Licensed Marriage & Family Therapist Supervisor and Board Certified in both Professional Christian Counseling and Pastoral Counseling
Dr. John has more than twenty eight years experience in ministry; Fifteen years in military chaplaincy, in both Active Duty and Reserves, including combat tour of duty in Iraq; Selected as Senior Protestant Chaplain twice as a Captain; Featured in several newspapers, US Air Force website and Department of Defense's Real Warriors program for work in Post Traumatic Stress Disorder and Suicide Intervention. He holds a Masters of Arts in Theological Studies, a Masters of Divinity, specializing in Pastoral Counseling, and a Doctor of Ministry in Marriage and Family Counseling. John & Terri have been married 27+ years and have five children.
Dr. John is available for both in-person and video conferencing appointments.
A word from Dr. John...

"My ideal client is one that wants to improve their relationship and is willing to take personal responsibility for their part in making it happen, even if they don't know exactly what that looks like. They don't come in looking for me to 'fix' their spouse, but come in seeking help from a wise partner to help improve themselves and their relationship. The ideal client has a moral base through faith in a personal relationship with God to draw on when facing difficult times.
I have served in combat as a military chaplain and understand the cost of war. Although it is usually a misspelling, many couples have come to believe that marital and martial are the same thing. But it's not supposed to be that way. Couples aren't supposed to be enemies in war. I bring my training and experience to bear to help couples win in marriage.

I understand the struggles of relationships, especially marriage. We are supposed to learn how to be married well by watching Dad and Mom demonstrate it to us as we grow up. If they didn't do a good job, where would you learn how to have a great marriage? That's where I come in. I help give tools & hope to help couples build incredible relationships."
Check Dr. John out on Psychology Today...
You can reach Dr. John directly at [email protected].
---
Dr. Ruth Charles, Marriage & Family Counselor & Coach
I have a special gift from God to help bring comfort to hurting people by helping to discover their worth. I have a passion to see people succeed and abandon past failures, in order to live out divine destiny. Having served in numerous ministerial roles for over 30 years, I am trusted as a listening ear to the lonely leader.
I wrote several books to help trauma victims, organizational leaders, business and ministry teams, and marriages and families. I specialize in Relationship Communication skills and Conflict Resolution and Management techniques for leadership marriages and organization. I believe that every fruit is only a symptom of a deeper root that can be addressed and managed or overcome. I am a certified Executive Leadership & Master Coach, Licensed Brain Health Trainer, and hold a Masters in Marriage & Family Counseling Psychology, as well as a Doctorate of Education in Organizational Leadership and Christian Ministry. I am NOT currently licensed in the State of Texas. I am the proud mother of seven beautiful children and two grandchildren.
Dr. Ruth has been counseling since 1996 and has been a minister of the Gospel of Jesus Christ since 1997.
Dr. Ruth's books include:
1. Prophets Manual and Guide
2. When Crisis Strikes: "How to Keep Moving While Grieving"
3. When Crisis Strikes: "How to. Keep Moving While Grieving " (Revised ebook edition)
4. Prophets Journal, Journeying with JESUS
5. Dear H.A.T.E.R.S. A compilation of forgiveness
6.When Divorce Strikes, Thriving after divorce (ebook)
You can reach Dr. Ruth directly at [email protected].
---
Julie Forman, Certified Mental Health Coach
Julie Forman is Certified in Mental Health Coaching by the American Association of Christian Counselors. She specializes in creating safe and calm spaces for her clients to share whatever the world has thrown at them. She can meet her clients in all stages of their journey with acceptance. Her skills have been refined through education but gained through her own personal journey of trauma and healing. She thrives seeing women break free from shame and condemnation and believes that within each trauma survivor lies a warrior with a massive purpose. Julie offers individual and group trauma support sessions and would be honored to walk alongside you.
When she's not in the office, she can be found in nature breathing deeply, in a coffee shop journaling contentedly, or in her kitchen dancing badly with her husband and 4 kids.
"There was once a time when I couldn't see my own feet in front of me. The path too dark, the way forward too demanding, too steep, too…everything. Now, The Light has made all things new. My feet purposeful, my eyes clear, the steep ways conquerable. It's not just a new chapter; it's a whole new book."
You can reach Julie directly at [email protected].

---
Cocoa, our emotionally intuitive Certified Therapy Dog.
(She's available to help in sessions, only with permission of clients.)
Cocoa and Dr. John are a Therapy Dog Team and are certified through the Alliance of Therapy Dogs (ATD). You can see more about what ATD does at www.therapydogs.com and see if your dog has what it takes to bring joy and comfort to people as a therapy dog.
You can reach Cocoa through her Instagram page at www.instagram.com/cocoapuptherapy.
---
Our Administrative Support Team:
Kelle Neveu Terri VanderKaay Timothy VanderKaay
Office Manager Accounting Manager Social Media Coordinator
[email protected] [email protected]