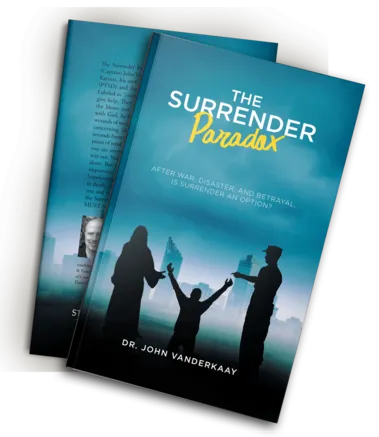 See Dr. John's books...
Know someone struggling with PTSD?
Send them a copy of Dr. John's testimony and they'll thank you!
The Surrender Paradox peels back the cover over Chaplain (Captain) John VanderKaay's experiences in war and Hurricane Katrina, his own struggle with Post Traumatic Stress Disorder and the stigma against getting mental health help. Labeled as "crazy" he was told by his superiors, "Good chaplains give help. They don't need help." After a miraculous encounter with God, he began to fight for those struggling with unseen wounds of war, helping change Department of Defense policies concerning those needing mental help. Going from being seconds away from surrendering to despair and ending his life, to the point of total surrender to God's grace, John learned that when you are overwhelmed by circumstances, surrender to God is the only way out. Therein lies the Surrender Paradox...
Read more at https://www.surrenderparadox.com

Click here to ORDER A COPY TODAY!

---
Cooperation Without Concession: A Plea for Christian Cooperation Instead of Competition
In Dr. John VanderKaay's latest book, he talks about the New Testament core of the Gospel Message and the need for cooperation instead of competition in the Body of Christ. By examining the central dogma of Christianity, Dr. John invites readers to hold tight to the fundamentals of Christianity while cooperating with other Christians who differ in non-fundamental doctrines.
Available as an e-book at Amazon. Click Here to get your copy.
Printed copy coming soon...